Rider #29 Lee Pearce - Transcontinental Race 2014 - Blog
Home - London - Newhaven [73.1 miles / 3,717 ft]
Having worked the previous day, having to pack and do the last minute checks I was already nervous, finally hitting the hay at 0000hrs, fidgety sleep. 0545 the alarm strikes, blurry scramble, breakfast, coffee and fretting. 0630 ride to Westminster, taxi ride for Marta and Tom. Right left right, London is sleeping, the calm of dawn is the preserve of the early bird, no wonder they sing. Riding my usual commute across Tooting Common brought consistency and familiarity, the early hour and the cool air brought a fresh feel to what can be a stale trail. I didn't have time to message my friend Jim who wanted to come down to the start line. However I was grateful for the peace, just me, my wits and the bike. A mile down the road, Jim rolls up, good ol' Jim, he reads my disposition and trails behind.



Tick Tock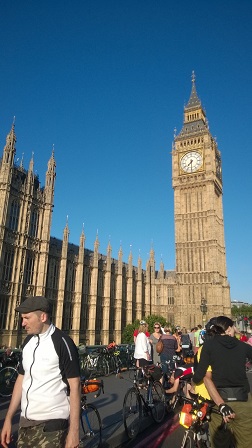 On the bridge, closed to traffic, seems to be a free for all, small talk, meets and greats, comparing rides and tech, Big Ben towering above. Marta and Thomas appear, seems Tom is feeling the nerves, in the back of the taxi he ejected his breakfast!!! More friends arrive, Matt and Emma, hugs and smiles all around. Time for one last surprise they've only gone and made me some business cards the soppy lovelys. Photo call, riders to positions, last minute instructions from Mike & team, I finally get to wear the race cap, #29, and it fits, so happy.



Matt + Emma + Moi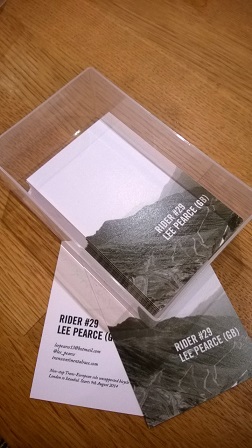 Big Ben strikes the eighth chime of eight, off we go 101* intrepid pedalists. I programmed my route a few weeks earlier and Elephant and Castle with its two intimidating roundabouts always confuses me, I took a wrong turn, beep goes the Garmin...around the roundabout I go, by the time I get back around the pack has gone. I started chatting to Sebastian from Austria, mentioning this is neighbourhood blah blah but couldn't hide the fact I was on edge, trying to decide what route to take to Newhaven whilst trying my best not to upset the Garmin. At home I consciously tried to avoid hills choosing to preserve energy. Oval, Stockwell, Clapham, Balham, Tooting... Over those few miles I decided to chill out, turn off the Garmin and follow my favourite roads.

Passing the local Homebase reminded me of a multi-tool I thought I'd need... so I popped in scared for my flimsily locked bike. Buying the multi-tool brought an increased sense of preparedness but not much. So here I was, a stone's throw from my home, riding roads I'd ridden a hundred times before. 12 hours until ferry check in, why not go home and rest??? I resisted the urge. Mitcham, Hackbridge, Wallington, up and over to Coulsdon all sprawling suburbs of London. Farthing Down is where the countryside starts.



Home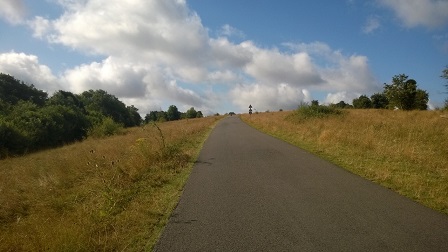 Up and over the North Downs to Blethingley, Smallfield, Turners Hill...cake...double cake... I know a good cafe in Sharpthorne, off I trundle, first problem...It's shut for two weeks. Disaster. I searched within, if I couldn't have cake I wanted a Weatherspoons breakfast, don't ask me why. A quick search found my nearest Weatherspoons in Burgess Hill, I'd never been to Burgess Hill, I was going off-piste. Arriving at Burgess Hill at 1157 the waitress refused to take my order for a full English, I had to make do with all-day brunch, it came with chips, result.

I had a two hour conversation with two strangers obviously intrigued by my set up. They even offered me their garden to camp. Off to Lewes and Newhaven.

There were bikes scattered around the terminal, a few cyclists laid out making use of the down time. Bumped into Gavin who had the great idea of buying a book from the local charity shop. He'd already made use of the Sainsburys. He said he just wheeled his bike around the store without protest, puzzled, I gave it a try, only to be pounced on by a security guard. That's the last time I listen to Gavin. Sainsburys had owls in the foyer, all is good in the world. Locked bike, made purchases, had myself a little picnic near Bishopstone. 1930, not hungry with a long night and day ahead, I search Seaford for Fish 'n' Chips. Delicious, but managed to lose my flip-flops I'd bought the previous day. On the ferry I managed to get some poor quality rest.



Missing...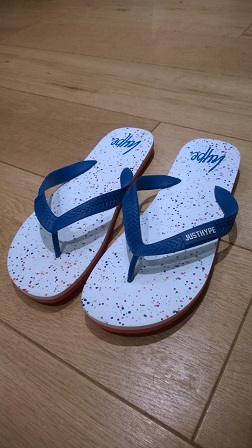 Dieppe - Paris - Troyes [208.9 miles / 6,388 ft]

Rolling off the ferry I almost came a cropper on the slidey ramp, Gavin caught me. Dylan Hubble struggling to find his passport. Spark up the Garmin, off through Dieppe. Ellie storms off ahead, until her tail light is no longer visible, brave. Barry Duncan, Dylan and one of the Italians plod on through the night. I picked the very experienced Barry Duncan's brain from nutrition to disc brakes. At Neufchatel-En-Bray not wishing to upset my Garmin I said bye to the group and joined the Avenue Verte (40km of traffic free cycle path). Being a disused railway line, it's very flat and follows the contours of the valley. At Gournay I started to fall asleep. I found a sheltered step and laid down, the conscious started to fade... then I hear the distant voices of the three riders I'd left earlier, a wave and a cheer, they were gone, then the mind wouldn't shut down, grrrrrr. I'd have to make do with a 20 minute time-out. Back on the bike, a quick visit to the bakery, down that road, singing the theme from The Littlest Hobo.



Nightriding with Barry Duncan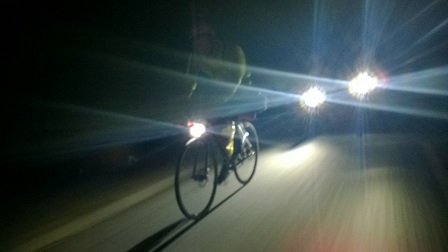 Somewhere along a quiet road, observing everything, desperate for distraction I spotted a bag... Pressed the brakes and rode back, some kind of small Nike satchel, it had seen better days, just sitting there in the wooden bus stop in the bus shelter. I investigated, wallet (canvas, sporty, well thumbed), ID (rural looking chap), money (10 euro), cigarettes (with lighter), mobile phone (old nokia), nik naks (receipts and sweet wrappers). Cool, human interaction without a human. Opportunity to do a good deed. I've found wallets before during dawn hours. I assume Saturday night waywardness, alcohol related. I now have a bag, now what? There's no one around, I could leave it here where I found it but I'm in the market for some good karma, it's a long journey and karma weighs nothing. Cycling really brings out the superstitious in me. A police station??? With my limited French and possible form filling, hmmm non. The bus stop is opposite a farmhouse with a courtyard with high iron railings. I sling the bag over the top and hang it on the inside of the courtyard out of view from the road. Fingers crossed the new owners will do the right thing.

Long boring roads, at Gisors I join the D915 to Pontoise, the lack of sleep starts to nag again so I make a stop at a "picnic area" along the main road, resting upon the concrete table top almost sacrificial in proportions. Ten minutes later the Chadwicks zoom by, I think somebody else does too...why aren't these mortals sleepy? Mind starts playing tricks again and puts me back on the bike, grrrrrr.

Further down the road I take the bypass of Marines, back in London I remember harassing Strava route builder, trying to draw a route along the old road through the town. Old roads mean bakeries, people, snacks. From Strava's refusal I guessed there must be a one way system, this time I gave Strava and Garmin the benefit of the doubt and took the bypass. Nearing the southern end of the bypass I hear a commotion and notice the Chadwicks, "hay" and a wave...they are climbing a grass verge, over a road barrier and then I hear "becareful of the wasps nest"... It's going to be a funny race. I take the hill slowely in the hope they catch up and say hello. They don't, I never met the Chadwicks. (Hi Chadwicks :waves:)

At Pontoise I must have programmed into the Garmin to take me through the Old Town, I'm glad I did as it was a welcome break of medieval roads. A shelter from the gusty wind. Crossing a river, I assumed it was the Seine, gave me some encouragement, (it was the L'oise), then starts the longest commercial retail park in history that seemed to stretch all the way to Paris.

Living in London, I have developed some urban ninja road skills. Paris allowed me to make the most of them. It was great to start seeing people and commerce, food shops. The wind was contained. The traffic lights were now the challenge, what can you do? I had picked 4 long straight roads to take me through Paris, that's all I could remember, the Garmin would show me. I could sense I was getting closer to the centre, suddenly I ride upon somewhere I know - Clignancourt, awesome. The buildings climbed higher, cobblestones became a feature, suddenly things became familiar and there I was outside the Pompidou Centre. "Sauf" the signs proclaimed, other cyclists seem to carry on regardless, riding some polished granite. At walking pace from nowhere a tourist steps out, brakes on, front wheel slips from under me, le bonk...grrrrrr. Gathered myself, mutual apologies, checking out the damage, luckily no damage done. I continue with renewed caution.

A wide boulevard, a grand twelve way roundabout, another lovely straight road, Vietnam Town, China Town, Paris Town. Clearly on the south side of Paris now the Garmin gives me a beep, you should have turned left. Back In London I would programme smaller roads every 50 miles or so to break up the monotony of busy roads. I'd also use the Strava heat map option that highlights routes popular with cyclists. Off I go following the Garmin, through a French high rise estate, looking up I hear chaos of somebody cracking a dvd or something and throwing the pieces to the street, hmmmm, then I get a flashback to a fantastic French movie La Haine (The Hate) set in the neglected suburbs of French immigrant community. I'm sure I was in the set of La Haine, gulp. Keep pedaling, round a corner, down and under a railway bridge, okay, not feeling too safe now as this looks like a popular fly tipping spot, under another railway bridge, inch deep in water, chap ahead in a leather waistcoat, keep riding....Garmin beeeeeeeeeep... Off course, turn around, ride past the leather clad urban rambler, looking for a left turn...none...Garmin wanted me to ride along a railway track!!! Homing beacon goes on, get the hell out of here, following intuition, negotiating a suburb and industrial estate I manage to get close to the Café au Reveil Matin, relief, let's get that brevet stamped.

Approaching the control point brings an elevation of mood, a straightening of hat and garments in a hope Mathias the photographer might steal the moment of fulfilment. The control point is also the gauge of how you've been fending, the race is already 32 hours old. Quick hello and catch up chat, stamp the brevet, take note of current position and off into the dual carriage way and the foreboding clouds. McDonalds was mentioned, urghhhhh, now KFC I could do, let's eat. Breaded fatty chicken and unlimited fizzy drinks, harassed by some local estate kids, it would be wrong if kids didn't harass such an alien looking creature. Troyes is eighty eight miles away.




Dirty Chicken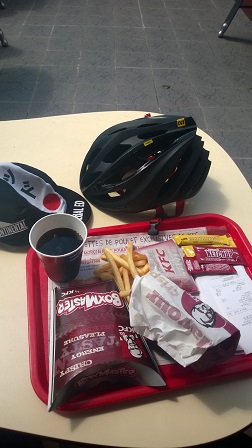 With the shift in course, now heading East SE, meant no more head wind, a side wind which on occasion helped you along. I don't remember much about the Paris - Troyes section, looking at the map it looks flat and straight, I remember some huge hemp fields. I passed a tall TCR rider sheltering from the light rain, further along I caught up with two Italian riders who were looking for their friend, when I told them a tall rider was 10km back they weren't impressed. Further along I met Chris Dobbs and his awesome looking set up, chatted bike, Chris likes to cycle long distances and not sleep much, I'm discovering this seems to be the tactic of all the endurance races. Hmmmmmm, should I change my tactic? Could I change tactic from fast but short? No, not yet, I only got a place in the race in July, I only had space for one plan, I'm sticking with it.

I got to Troyes with some Garmin issues involving vaulting a barrier and a "dirty u-ey". On the outskirts of Troyes I find a motel and a KFC, could this be heaven? Inside the hotel the receptionist disclosed two other riders were staying, Gunter Desment and Gareth Baines. Wicked, I was in good company. Room, shower, change, steak restaurant, I joined Gareth for food. I didn't know Gareth, we had chatted on the net, we ate fast, joked and pleasantries. Gareth was leaving the hotel early, I however was determined to make use of the hotel breakfast. Back to the room, wash the laundry, set the alarm, sleep came easy.

Troyes - Vesoul - Basel [207.9 miles / 8,333 ft]

Up dressed, packed, carry bike downstairs. Losing my flip flops and only having cleated shoes, you take your life into your own hands, lethal they are, slippery on shiney, catchy on stairs, cleats and high heels have a lot in common. While munching on the breakfast, Gareth exits, so much for early starts. Checking out I speak to the receptionist trying to find out a little about Troyes, trying to appease my curiosity without having to go through the town, the language became an issue, I never did find out about Troyes, it's people , history or what it's famous for, maybe Champagne was mentioned but it was 2000 miles too early for that.

Nothing to mention until Garmin led me on to a pre-planned diversion, Still enthused by the race and not hurting too much, off I trundled in the direction of Vesoul. The Garmin beeped I had an imminent countryside detour, fast road, road, lane, gravel track...a re-occurring theme, 100 meters along I noticed the gravel continued to the horizon, why!!!!! Turn around, using the mobile and Garmin I manage to parallel the original route a few miles, later I attempt to re-join the red line, result, all nicely paved, not only that it seemed to parallel a railway line and had next to no traffic. In the next 20 - 30 miles I past a dozen cars, beautiful rolling countryside, sunflowers seeming to be the highlight.



Sunflowers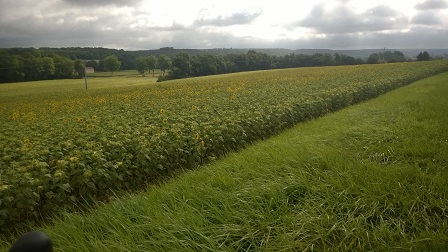 Langres started to appear on the horizon, dominating the high ground. Dominating my thoughts were the bright lights of Lidl. Here I passed another rider, Hans. Lidl carpark picnic was better than it sounds. On the 40 miles remaining to Vesoul I bumped into Paul Alderton who was suffering from an achilles injury, felt really sorry for him, I gathered he's an experienced rider, he knew what he was doing. We parted at Vesoul. I needed my tyres inflating and to contemplate continuing to Basel or stop short at Belfort. Thank you to Go Sport in Vesoul for inflating my tyres, it only took three attempts with three different pumps, bit of a challenge to reach 110 psi, the pump continued to kick back with some force. I could feel the eagle-eye of the manager watching over his staff. A couple of energy bars purchased, off I trot.

82 miles to Basel, it was already 1700, late finish then. All seemed to be going to plan, fast road, suburban road, lane, gravel lane, mud!!! I can only blame myself, seems the heat map wanted me to follow the mountain bike trail, grrrr. 15 / 20 minute faffing around back on the fast road seriously considering Belfort. Basel was 40 miles away and my original target for the day, Belfort was 10 miles away and would knock my schedule, i knew tomorrow was a big day and best to put in as many miles today to take the pressure off tomorrow. Basel it was. I could sense the impending Alps, distant shadows, change in the fauna and shape of the hills, architecture of the houses transformed into more alpine-like structures. I was now in Alsace.

I had a magical moment climbing a hill with a tight left curve, suddenly appeared a huge HGV lorry and trailer, next to no light apart from my front light and the HGV's bright orange dots that followed all lines of the truck and trailer, I was in my own personal Tron, it could have been the Christmas Coca-Cola lorry. A welcome break from peddaling thoughts. The French placed a town called Bisel 15 miles before Basel, strange sense of humour the French, had me fooled for a few minutes, nope 15 miles more to go.

Over the ridge appeared the dazzling bright lights of Basel, down the hill straight into a power station / waste disposal site, right on the French border. Border point remained open but unstaffed, a mile in I witness my first Swiss, these had the look of junkies. Tram rails, careful. To my hotel, food and sleep. Luckily the kebab shop was open, a fraught man made me my "royale" kebab, while another two Turkish men asked inquisitively about my bike, "£1000 and I'd be taking it to my room" I answered.



The Royale - fit for a king?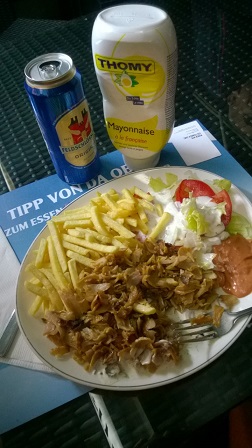 Basel - Zurich - Davos [154.2 miles / 9,698 ft]

The Swiss breakfast was awesome: selection of breads, meats, cheese, yoghurts and three coffees. Fill my bidons, a flat stretch to Zurich. Arriving late, resting, eating for 8 hours made me a late riser, I didn't see another rider for most of the day. I met Canadian / New Zealander Chris. He had some food poisoning, he would wretch while riding, like a warrior he continued to ride, mixture of admiration and disbelief.



Smiles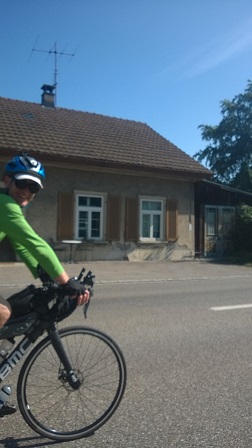 Zurich seemed very civilised, I followed a hipster into town, mirroring his traffic light etiquette.



Low Slung Denim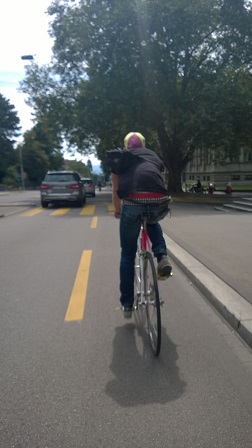 Stopped in downtown Zurich on the edge of the lake for a delicious and well deserved sandwich. Inhabitants, some very well dressed people with its fair mix of eccentrics. There was a Santa looking man in a Hawaian kaftan, there was Karl Largerfeld's long lost dirty brother and Urs, a smiley tidy man having his lunch. I wish to point out having a laden bike and lycra clad I found myself in the eccentrics camp. Urs had been to Devon, Torquay and Plymouth, with that knowledge we became brothers. Urs was kind enough to point out not everything in Switzerland costs money and directed me to the municipal drinking fountains.

Turns out the European Athletics Championship was happening in Zurich at that very moment. To celebrate, they had transformed the local square into an athletics training camp. Said my goodbyes to Urs and went to explore. First thing I noticed was the little known 40 meters sprint against loads of pesky kids, a surge of national pride, the spirit of Allan Wells washed over me, I took my marks (a few pictures too), pop, sprint, photo finish, too hard to call ;). Some freelance Italian radio journalist could see I was a weirdo and started recording and asking questions, surreal.



On your marks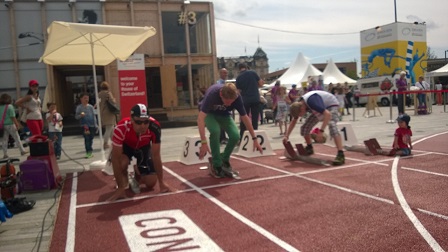 Rolling Hills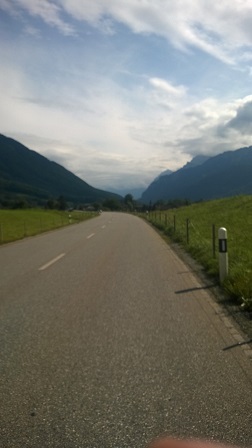 Along the north side of the lake was my plan, a good one if it wasn't for the road works, slightly delayed I reach Weeson and Glarus Nord. I knew this was my first taste of the Alps, slightly apprehensive. Back in London I had heard there was a cycle path along the shores of the mountain lake however it wasn't all paved. Over the top it was. By curious fortune somebody had the sense to place a glorious cake shop at the bottom of the ascent, double cake. Within minutes I was climbing, with time to text and take pictures.



Climbing, texting.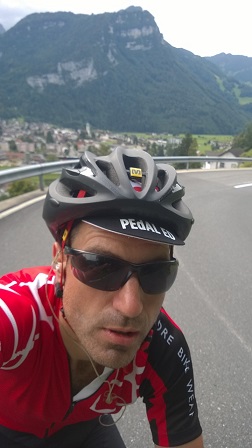 The views became more chocolate box until it all plateaued, a few downs and a long tunnel a big scary down, all done. 10 miles of mountain pride, where's my cup. I pass and was re-passed by Hans somewhere near Sargans. 20 miles of relative calm through glorious mountain farmland (those Milka Chocolate alpine cows stink btw) came Landquart, turn East and in theory a straight, long climb to Klosters and Davos following the #28 road.

In theory, however all along the route 28 were no cycling signs. Chatting to a couple locals they said there was a cycle path paralleling the #28. Hmmmmmm, this wasn't quite the case, the path weaved under, around, through villages and along rivers, rarely sign posted, some kind of Swiss secret. As I did my best I must have lost my way, "right at the fork" she said...which fork? The only right I came across would send me down the valley, no cyclist throws away hundreds of feet of ascent without a good reason, up I went. A few hundred feet up I could sense this was the road least travelled, I could see the #28 a few hundred feet below, cars smugly racing along.



Up looking down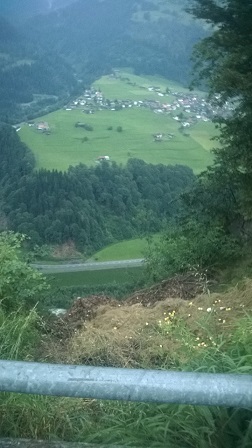 Using my GCSE German on another local seemed to reveal I'd need to go down before I came up, grrrrrr. Darkness arrived so did the light rain. The steep mountains seemed to annoy the Garmin. Finding the cycle path was the mission. I think a dowsing rod would be of more use. A number of times the Garmin beeped. Confronted with numerous paths, cyclists ride down the roads one by one until the Garmin beeps course found. I call this the spider manoeuvre as you scrawl legs upon the Garmin map. At one stage, pitch dark, raining, down a small hill, up and under the roaring road bridge now above, thunder of the river below, 10% gravelly hill in front, the wind funnelling down the small gap, this was horror movie scenery, please let it lead somewhere. After horrorville and a stretch along some village road works, signs started to make sense, Klosters, beautiful Klosters, inhabitants - hundreds of orthodox Jews. Very helpful they were too, "Davos, this way, on your bike, very difficult" "such is life" I replied.

I'd underestimated the climb to Davos, seemed to go on forever, frogs for company. You know when you reach the top, the wind gives you a little blast, down a bit past a lake, cloud rolls in making everything amber and eerie. Garmin directing me down but petrified of having to climb up should it be a mistake I consulted the phone, none seemed to make sense, in the hands of Garmin go I. Luckily it all worked out, down to my hotel, grabbed an awesome burger and sleep.



Not everything in Switzerland is expensive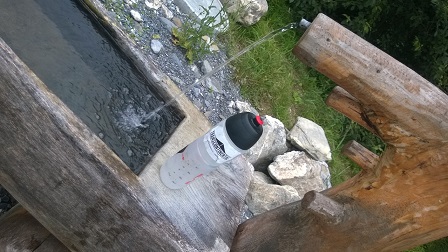 Davos - Fluela Pass - Susch [13.3 miles / 1,831 ft]

Breakfast - "would you like smoked salmon sir?" "yes please", out comes a plate of smoked salmon, horse radish and caviar...caviar, the irony. An hour later I asked reception for some carrier bags and elastic bands, placing my feet into improvised waterproof socks. Caviar and plastic bag socks, bonkers. I sat next to the window trying to get a feel for the wet weather, rain just kept coming, speaking to the locals they all confirmed it would be here for the day. I was confident with my wet weather clothes, all my winter city garments, very high end, price tag to match. No gloves or overshoes were a bit of an oversight. Merino wool base layer, bib shorts, I had layers. I decided on wearing the latex gloves I brought for mechanicals, the hotel were kind enough to give me some blue food prep gloves. Shower cap over my helmet, a striking look.



Fish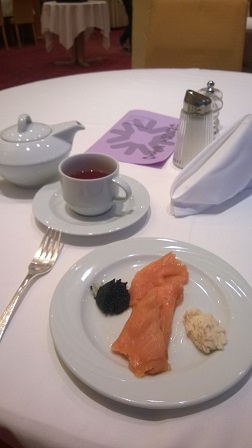 Bags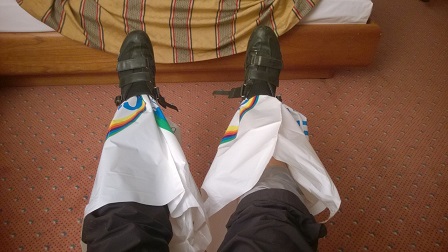 Barend knife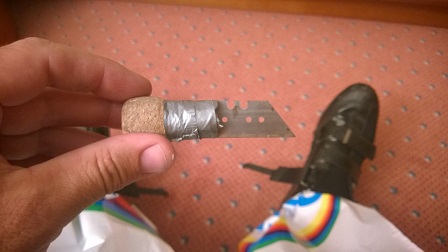 Jobs a good'un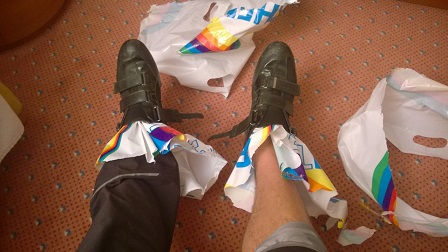 Up the Fluela Pass I went. Klosters, Davos, Fluela and the Ofen Pass were all new to me, back in London I had decided to go via a northern route along Austria and Liechtenstein, avoiding the climbs in preference for a longer flatter route. However talk on the TCR forum made me consider the shorter hillier more direct option. Silly me, ohhh silly, silly me, "TCR and riding the Alps doesn't happen every day, great to take advantage of the opportunity". I read Juliana's blog from TCR 2013, she encountered some bad weather but overcame. Up the Fluela Pass I went, when the gradient hit 7+% I decided to walk. I had punished myself the previous day, pushing up 10 - 15% hills, my muscles were feeling pushed, they were growing. Back in London a few bike shops had commented on my gearing being aggressive, not necessarily comfortable for long steep climbs. They were right, however I didn't have any more funds to splash out on a compact chain set. I knew I could power up 15% gradients of the North Downs but this wasn't the North Downs. I was consigned to walk. I walk at 3.7mph fyi. I was warm, relatively dry. It reminded me of being on Dartmoor, only the goats had bells. Before long, the gradient tapered, back in the saddle. I reached the top.



Worth the climb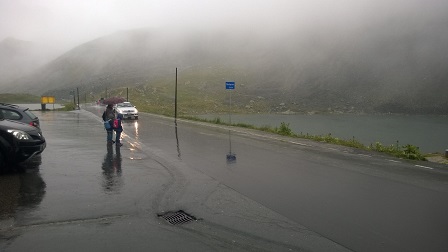 I noticed a bike at the cafe, I think it was Hans. I had plenty of fuel in the tank, warm and happy I'd conquered the climb, looking forward to my first big descent. It was here everything started to become very real. Something I wrote on Facebook a few hours later from the sanctuary of Hotel Garni, Susch -

"Sleeping. Charging devices. Charging my legs. Today was the worst cycling experience ever. Soooo cold, dangerously cold, winter cold. Alps never got the memo it is summer in August. It's not the rain, it's not the wind, it's not the road covered in water and vertical drops off the side. The temperature is pleasant while walking, 7 degrees or something, but when you stop pedaling to come down the hill, the speed, wind, cold, wet all combine and start nibbling at your hands and feet, fingers start to disobey commands, knees and feet start shaking. Braking and going slow reduces the sting but prolongs the torture. The cloud masked scenery annoys, what a waste of what could be the most amazing descent of my life. What should be adrenaline fuelled 10 miles of 30 mph with a few photo stops turns out to be a battle to function. Stopping to pump some blood into latex (food prep) gloves, travel a few miles more. Respite came slowly in that the temperature and wind in the valley is slightly warmer. I brought clothes for the wet, city commuter clothes, I read Juliana's blog from last year, similar thing happened to her. I know many of the TCR crew travel light, like UK summer cycling light, 50 gram wind jackets, arm and leg warmers, maybe a gillet, suits 99% of weather solutions. Today was the 1%, it didn't. 20 minutes in the hotel in come four TCR guys, wet through, physically shaking, shit could have got real if one had slipped, or stayed out for another 20 minutes. They are staying here too. I'll add a pic of them hugging the pizza oven in the hotel kitchen."

I'd never thought about shivering much, it's natural, the movement creates warmth to keep the body warm, what I didn't know is when your right side shivers a fraction of a second later the left side shivers, the body doesn't shiver at the same time but oscillates, this creates a very dangerous standing wave through the steering and bike frame.



Icey looks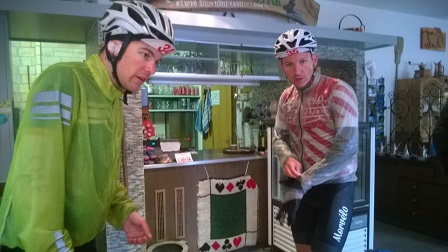 Warm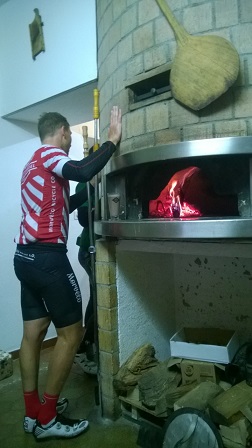 Hugs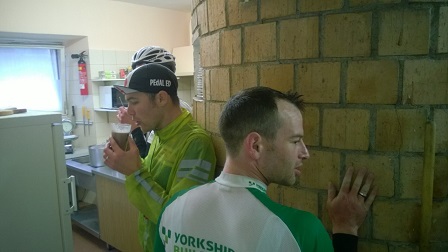 Hotel Garni (in Susch) saved my ride. I had a lunch with John Duggan, he likes to sleep in his bivvy, we ate pizza and after he had warmed up he ventured out into the rain. I was feeling warmer and better after a sleep. At 1800 I came down for an evening meal, in comes Gareth Baines, turns out things got real for him on the mountain that night and day.



Relief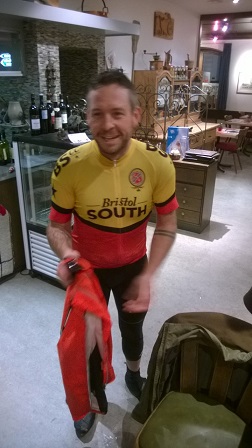 Delayed by a mechanical in Troyes he had been making up time, he had bivvyed on the mountain, cold, wet, gone 20 miles the wrong way, took a 10 mile trek across a mountain bike trail, up the Fluela and down the other side with a flat tyre, I think there was a fall involved. So much danger that day. Gareth decided to stay the night. We feasted on spaghetti bolognese and beer. He was going to have to attempt a repair on his punctured tyre. I had rested and dried out. I was going to sleep and ride at 0400. I couldn't sleep, the rain had stopped, the weather reports gave a six hour rain free window. TCR logic states if you can't sleep, ride.



"Beware the moon lads"
- American Werewolf In London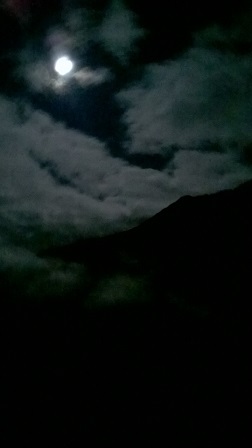 Susch - Prato allo Stelvio - Passo dello Stelvio - Merano - Trento - Verona
[202.2 miles / 12,395 ft]

At 0100 off I set. The Ofen pass was ahead, I was scared. The mountain air, the parting cloud made everything remote and serene, while cycling I disturbed deer and stoats, a couple of cars slowed in bemusement.



Strange Creature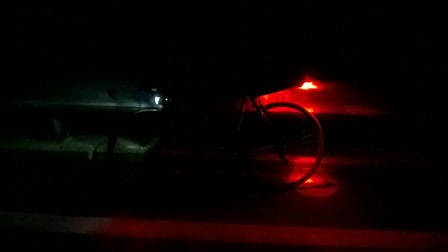 Before long I'd reached the top and descended into Italy. Seems the hill isn't to be feared, it's the weather. There was a fantastic descent, Swiss roads are fantastic. The Italian border remained unmanned and open, 0400 hours. Off to Prato allo Stelvio, 30 minutes away. I didn't know whether to find a hotel (too early), power nap or eat for the Stelvio. I rested a bit, ate my peanut butter, sugar and seed mix packed in London and set off to find the climb. It was early but light, 0600 maybe, I set off up the Stelvio, I stopped at the bottom to disrobe, tighten my shoes, as I did Vasiliki cycles passed, I wave, no response, she must be in the zone. I get prepared and saddle up, I promised myself not to uncleat.



Up I go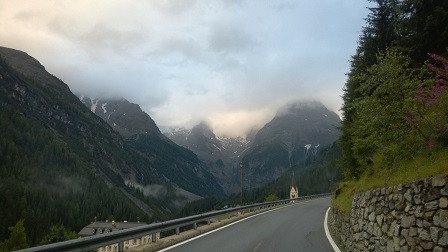 I knew the profile of the hill, 7% +/- nothing I couldn't handle. I knew it would take me three hours or more. It's not as if you can ride the hill with any comfort with 6kg strapped to the bike. Missing home and lacking rest. Up, up, up, the scenery changed, passing Vasiliki who was still in the zone.



Still I go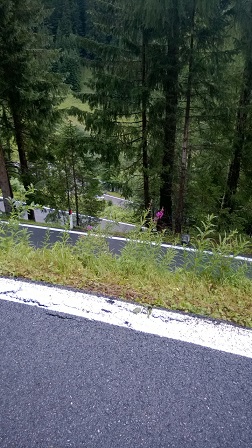 Three hours up a hill gives you a lot of time to think about stuff. The re-occurring thought was why would anybody build such a road? What was so important? Whoever built it hated cyclists. I managed to stop without uncleating and take some progressively inspiring pictures. I had never done anything like this before, I was entitled to spend a few moments capturing the moment. I soon worked out that the numbers on the switch back counted down the hairpin bends, great, 32 to go. As i climbed, traffic became more frequent: cars, motorbikes, trucks with diggers. The motorbikes proved to be breakers of the peace.

Up, up, up. Wondering mind starts to calculate the probability of falling through one of the gaps, surviving the fall, and what you would look like, thinking back to Bjork's song Hyperballad. Stopping again to capture the moment, one knee resting on the wall, stupid me, a wobble and I fell into the road, destroying my uncleating promise, count my blessing, no more messing around, onwards upwards, besides Franziska or Matthias would be there to capture this magnum opus.



Stelvio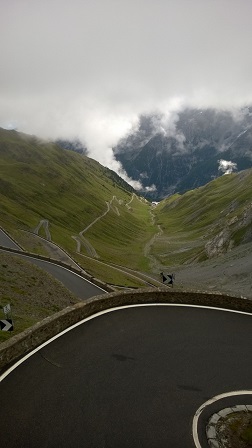 Final hairpin the road relaxes, visions of the 2014 Giro Italia spring to mind when riders raced in the sleet and snow, up and over to hot dog stalls, trinket vendors and cycle merchandise. Cloud concealed the prize. No photographer. Around the bend first hostel, TCR banner. Relief and a lip wobble, frustration was the dominating emotion, still haven't figured out why. Through the door, greeted by Gavin Scott who was readying to leave. Conscious of the weather window, I hurried to get my brevet stamped, Mathias asked if I needed anything, "a weather report" I said, a few clicks and snow was declared...

No time to waste, no amount of hot chocolate would protect me from another Fluela Pass scenario. I said bye to Gavin, off to the cycle shops. "A pair of your cheapest gloves please". 15 euros lighter but warmer, off I sped. A few turns in I notice a professional photographer - http://2014.fotostelvio.com/ snapping riders going up and down, awesome I thought, strike a pose...then I realised I looked a ninny with my shower cap on. I don't know what speed I reached but the Garmin suggests 59mph, I estimate the high 40's, who knows? who cares? I was now in the warm, sunny, summer-like valley, breakfast was the mission. How I gorged. No time for rest. I had 14 hours to claw back, that's how long I rested in Susch after the Fluela Pass.

Off to Merano, Trento and Verona, I knew nothing about this area, I had no idea there was an Italian German mix of culture. I was amazed, everything was very tidy and German. I discovered this is where my favourite apples come from and I love apples but not once did I go scrumping (eternal regret). The valley was riddled with fast functioning cycle paths, some I took advantage of but I prefer the faster roads. Before long the roads became a bit samey, the mountains became a prison, the lack of sleep took with it my tolerance for the situation. Please get me out of the Alps, I've had enough. The climate here is one of summer, you can sense the warmth and humidity in the air, knowing this is what makes clouds and rain, soon enough there it was. I'd done well to escape the Stelvio dry, a tear for the others. Trento, through another shallower valley and pow, no more mountains.

On the outskirts of Verona, having ridden for 19 hours, I stopped at what I thought was a pizza joint. My first pizza, yay. An Indian person brought me the menu, took my order for a beer, browsing the menu, standards, tikka pizza!!! I flip the page... a whole page of curries, hallelujah. Sign me up. Lamb Rogan Josh, rice and naan, turmeric please ease my pains, tomato sooth my sores, ginger fortify me. They asked where I was from, they knew we had a taste for the east. Off to my Verona hotel, easier said than done, I was back in the hands of the Garmin. What a riddle. I'm sure it wanted me to go cross somebody's back garden. Managed to find the river and navigate from there.

Verona - Rimini [112.0 miles / 942 ft]

My shortest sleep, breakfast at 0700, out by 0730. I had to get to Ancona for the 2000 ferry to Split. 203 miles of relatively flat in 12 hours, a very tall order.



Plain



Back in London I'd researched prevailing winds and I read about a wind from the north pushing south, let it be and so I tried. All seemed to be going well, I'd review my performance regularly, I needed to do 20mph which would allow me a break to eat and refill my bottles. Half way through somewhere near Ravenna I was thinking it wasn't possible, ordering two pizza type things, I notice the redbull...redbull give me wings. I thought I'd give it a go. Making use of the TCR musette I rode and ate. I was doing my 20mph. Just after Ravenna the signs started to indicate no cycles, there were cycles everywhere. I just continued. Further along are three Italian locals riding peloton, I love a good peloton. First thing I noticed these guys were riding at 19mph, too slow, I thought I'd ride with them for 10 minutes. Second thing I notice is how close they ride, to one another, they were bumping into eachother. No orderly line with these three. They were desperate to avoid the south westerly wind squeezing every last watt of efficiency. It was cool with me, they formed a very effective barrier. I tried to bond by asking directions but they were doing their own thing. After a few miles I knew I couldn't continue at this pace and slowely cycled pass with all my kit.

The road was a dual carriage way, large hard shoulder, things were safe. Somewhere near Rimini the police roll up, wound down their window, gesticulated for me to leave the road, grrrrrrrrrr. A mile down the road they were investigating an abandoned moped. At the next intersection I exited into agricultural land and scrub. Wicked fate. I guess I'll just have to visit Rimini, a place I've always wanted to visit. What a strange place, private beaches, muddy, dust-like sand. I managed to find a place quiet enough to relax for a couple hours.



Relax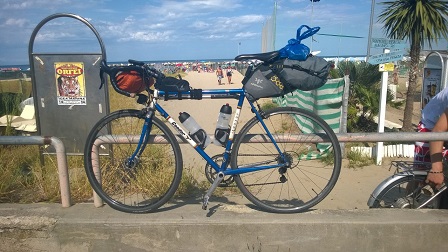 An excuse to not wear cleats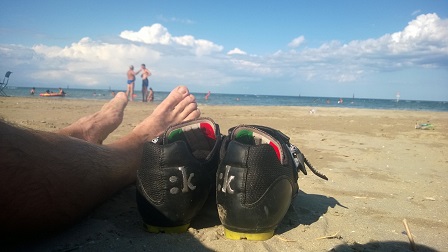 At 1800 I needed to find somewhere to rest, I'll use the tent. Turns out this Friday was Ferragosto, Italians biggest holiday. I visited 3 campsites, one offered me space for 50 euro!!! At the last site I had on my list I played the pity card: "I've cycled from London, I have nowhere to sleep". The lady bought the story, showed me to the grass car park, offered me the parking space, a Fiat and a Citroen for neighbours, I said yes. Setting up camp another older lady meanders over while chatting on the mobile phone, spots me making camp and brings me a piece of cherry tart, "Ferragosto" she says, bonkers. Earlier I'd bought 4 beers and a tot of brandy, sat in the Wi-Fi hotspot I felt a VIV, Very Important Vagabond. Well hydrated I popped to the uber-busy restaurant for some gnocchi, little puffy clouds of oily goodness, they were good, 1/2 bottle of wine for 6 euros, complete I retired to the car park.



Clouds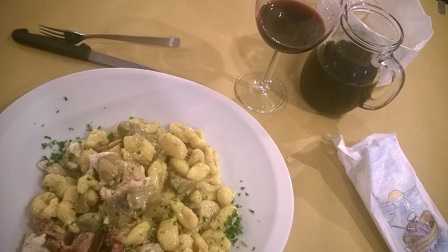 Glamping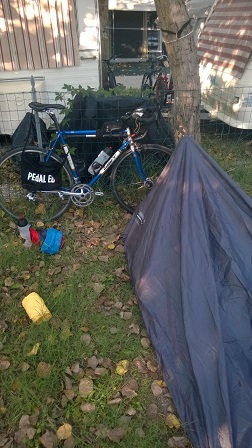 Rimini - Ancona [54.8 miles / 735 ft]

A pleasant sleep, shower, only 60 miles to Ancona. Maybe it was part hangover, maybe poor tent sleep, maybe the super busy Ferragosto but I became panicked that the ferry might be full and I'd better get there asap. On route I bumped in to William Van, we swapped stories and rode together, his knees were hurting, his friend had scratched in France and since then he hadn't had time to relax or enjoy himself. I reassured him he was doing well and to relax, we have plenty of time to catch the ferry. We passed Ricky, who appeared almost drunk, turns out that's her natural disposition, she shared a story about her sore bum.

Ancona appeared along the coast, I had to find a cable as my charger or phone had died and I didn't know why. Van needed a bike shop. John Duggan recommended the pizza. At the ferry terminal things seemed to be shut, not great when you want to find inner contentment. Pottering around, killing time, a bit on edge, in a strange town with no mobile is no fun. A couple cups of tea were welcome but I really wanted my ferry ticket. 1630 came and I secured my place on the boat. More riders turned up: Jonathan Elliot, New Zealand Chris, Ian, Gareth Baines just made the boat. This could be the party boat. Gareth and I decided to share a twin cabin which led to 5 beers, a bottle of wine and finishing the brandy. Going to bed late and waking with a second hangover, whyyyy?!!!



Terminal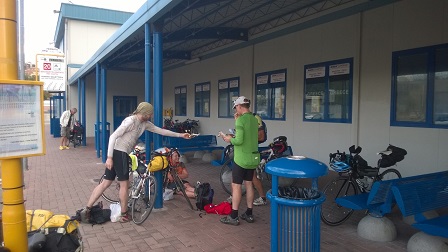 Split - Dubrovnik [132.6 miles / 6,831 ft]

The ferry breakfast was expensive. The scenery, as the land sped by, enchanting. We rode into Split to check it out, get some supplies. Thirty minutes later we rode on along the coast. Gareth had been having some Garmin issues, or he wasn't as confident with his route as he had first thought, so we decided to travel together (no drafting) until after Albania.



Gareth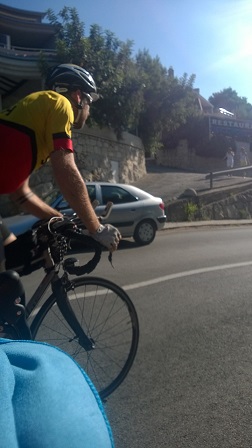 Croatia was hot, the road was single lane and the road users impatient. Village after resort zipped by, we stopped for lunch resisting the urge to jump in.



No swimming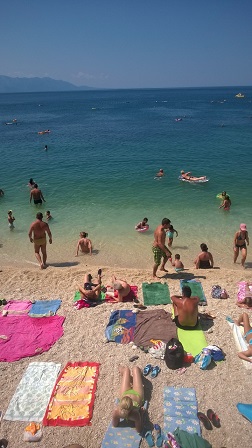 We were snared by the spit roasting chicken outside a restaurant only to be told they wouldn't be ready for another 30 - 40 minutes. Didn't they know we were in a race?? We resorted to a speedier food fix. Onwards, we split up resolved to meet near Dubrovnik. All went well, slowly at first then a tail wind picked up and pushed me along. Gareth texted, something about blood and he's cleaned up as best as he could!!! As I approached Gareth near Dubrovnik Bridge I realised that was his attempt at a joke...not bad, not bad. Truth is it didn't work, I didn't rush, who's worse? We had a brain wave of avoiding the midday sun by travelling at night, so we called it a day and camped in Dubrovnik.

Dubrovnik - Lovcen [81.2 miles / 4,111 ft]

A crap tent sleep, on the road at 0300 heading 60 miles to Kotor, Montenegro, then another 14 miles up Mount Lovcen. Felt terribly guilty not visiting Dubrovnik, I guess I'll have to return one day.



Dubrovnik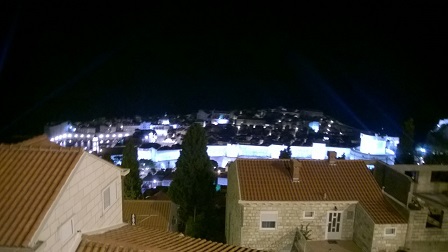 Nothing to report until the breathtaking dawn of Montenegro, cycling slowly watching the change in light, around the fjord like mountain, valley and water.



Montenegro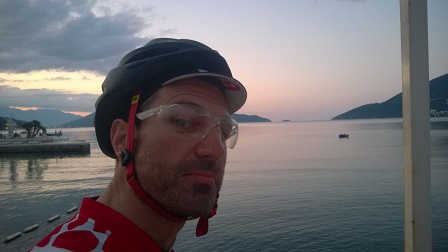 Kotor was waking, Lovcen, where are you? We found the parcour, we'd meet each other at the top.



Cruising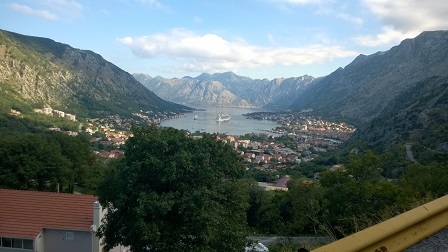 I had a watered down redbull in my bidon, we ascended. We swapped leads, passed Matt Edwards, onwards upwards, Gareth found his groove and pushed on through. I was overheating. Only one thing for it, disrobe, off comes the jersey, just the bib shorts. This made a world of difference. Lovcen was a different beast to Stelvio, not as long, not as steep, a view that continued to the sea, warmer, sunnier and quieter. It's the best hill I've had the pleasure of climbing. Below we passed a large cruise liner harboured in Kotor Bay. As we climbed, it got smaller and more toy-like. A ridge across the bay obscuring the distance shrank, revealing the Adriatic Sea, appeasing that most primal desire of what IS on the otherside.

Gareth appeared on my horizon, he later said he had stopped to take pictures. He thought I was way behind. Like a Bengal Tiger I sneaked up on him, quiet as can be. As composed as I could, cruised past. Gareth wasn't having any of it and gave pursuit, a flat section came, Gareth put his foot down, he was gone. We passed the restaurant up the hill through a tunnel, doubt set in, do we need to visit the restaurant?I bumped into Gareth wondering the same thing, I rode back there a man offered to sign my brevet, I wanted a stamp not a signature, we guessed we had to continue to the campsite Lovcen.

The race was back on, we both went as fast as was comfortable, Garmin says right where a man, hut and barrier was stationed, 2 euro each to enter the National Park...we weren't told about this, what if we didn't have 2 euro would we need to go back down? I paid the man, race was on, up a much narrower road, the views continued to get larger, turning a corner revealed abandoned farms and partially grazed land, what a wonderful place to live I thought. Up passed a painted blue truck that had come straight out of a motor museum. The road started to go downhill, panicccc. Just ride with it, passing three tourists I had to decline a request to take their picture, more eternal regret, spotting a luggaged rider ahead I ignored my Garmin and rode on when I caught up with him. He wasn't a TCR, he was an Italian tourist and I'd taken the wrong fork in the road!!!

Back down to the offending junction is Gareth, equally confused. I ride past proclaiming this is the right way expecting him to exploit his downhill speed. The trees cleared and there was check point 3, a wonderful restaurant, set in the leigh of the mountain, surrounded by a green grass and majestic pine trees. Sam stamped the brevet. We were greeted by John Duggan, Paul Alderton. Gareth arrived 30 seconds later, brevet stamp. At the fanastic Hotel Ivanov Konak food was on our mind, pancakes smothered inhoney and nuts. Soon after Matt edwards arrives, he has knee worries.

Lovcen - Shkoder - Tirana - Elbasan - Pogradec
[217.1 miles / 8724 ft]

We had decided to rest up until 1800 and then ride through the night avoiding the Albanian heat and traffic. A good plan in theory. We both found a plot of grass and tried to get some sleep. Riders came and went. It was hard to repress the urge to ride but we'd catch up during the small hours. 1700 we ate, 1800 we rode, descending Lovcen was wondrous, smooth curly sweeping roads, down, down, down. We hit a town, on through to Podgorica, the scenery was stunning, like something from a Sci-fi movie, peaking over a ridge onto a patterned glass like plane below, bordered by abrupt rocky ridges.

The Albanian border approaches. You get a strange mix of people, vehicles and mood around the border, this was no different. I don't know if it was the pre-judging, but you could feel elements of the wild Wild West. The Albanian border guard was enjoying his cigarettes too much to open up another lane, then an impatient car started hooting...I don't envy his security checks when he gets to the booth, seems the guard was enjoying his beer too, a crazy place. From a distance I pointed out that Albania doesn't have street lights, it looked deserted. We made pace to Shkoder, cash machine, snack stop, a tourist of Danish origin started chatting to me. He lived in Serbia and was holidaying in Albania, he found it difficult to hire a bicycle and didn't use a mobile phone. Gareth thought what kind of chap lives in Serbia, holidays in Albania and doesn't use digital devices??? This guy was clearly on the run.

Cake and coffee stop, off we rode to Tirana. I had chosen the main motorway, it was legal, flat and straight. It was flat, as in the land was flat, it was bumpy as the HGV's had sculpted gullies and ruts. Then there was the gravel. There were two types of gravel which became a reoccurring theme throughout Eastern Europe; there was the big type which gave you a really big shake and fear of a puncture and the small sandy type, which given the chance, would grab hold of your wheel and pull you to the ground. both best to be avoided. The first thing you notice about Albania is the lack of street lights, the second thing is the amount of service stations, 2 a mile at least, all brands you'd never heard of, each had an attendant smoking in the shadows, very bizarre, at least we would have somewhere to get snacks.

It was late, or was it early, it was that in between time sensible people tend to avoid. Circadian rhythms tugging at the conscious, nodding the head toward the handle bar. When riding solo you have a powernap when you need, guilt free, riding duo is another matter. Powernap with so many service stations to choose from, any piece of concrete will do. My usual protocol is to find a spot, keep my bike to hand, make sure my clothes are dry, go horizontal, cross my legs at the ankle, hands crossed upon my chest, helmet on, relax. It's certainly a death pose. Luckily my helmet has a flat spot on the back, it kindly elevates my head as if placed on a fluffy white Egyptian cotton pillow. This is pure coincidence, I'd encourage any Audaxing / endurance rider to pay close consideration to the back of the helmet next time they are in the market, Mavic, accidental genius.

A couple hours later, another powernap needed, the attendant spotted us, we gauge his reaction, seems like he just likes our company and wants to hangout, we are not going to get any sleep here, we move on. Few miles down we steal some Zzzzzz's in a carwash. Gareth does the same, after 30 minutes I regain consciousness, Gareth is snoring. I decide to give him 15 minutes more. A few miles back we passed two policeman with a torch on the side of the road, we ignored each other and took the wide route around them. Looking to the road, comes some flashing lights, police, four police waggons, then a black limo with Albanian flags, pause, then another three police, zoom, bouncing down the motorway. Madness. Gareth does not wake gracefully, knowing he's fully insured does provide some comfort.

We approach Tirana, so glad it's sleeping, something to mention was the amount of street sweepers, no brooms for these peeps, twigs bound to make a switch, hard-core. The Garmin took some deciphering. A huge Greek motorcycle approached, wife riding pillion. "Greek border"? "No idea mate". Tirana remained relatively storyless.

Exiting suburbs we spot a pizza place, let's have it. 4am pizza, there's nothing quite like it washed down with some milk, or so we thought. Ayran was it's name, I opened and took a big drink, urghhhhh, sour milk, the lady could see my displeasure and grabs me another thinking it had gone off. The second is opened and tasted, again sour milk!!! It hasn't gone off, it just has a sour taste, no harm done but i'm not drinking it.

On the outskirts we found a beautiful piece of painted concrete to sleep. I thought we were alone but I could hear somebody coughing perched on an overlooking balcony. 40 minutes later we move on, a fork, left green sign to Elbasan, right blue sign to Elbasan, green for motorway, blue for A roads. Garmin says right, follow the Garmin, I knew there was a new tunnel and new motorway. Back in London I remember zooming in on the Google satellite image like some CIA operator. There was definetly something going on involving mud and diggers. The prophesised tunnel would cut out a 1000ft climb, could it be? We climbed up the old road to Elbasan, night turned to day, in the blur we could see what looked like a brand new tunnel with a few vehicles going through. Squinting the eyes checking for no cycles signs, none visible, some portacabins and a police car to the left, new access road leading to the tunnel, let's do this. A lift in spirits, an unwarranted surge in speed, we raced to the breach. Having read Chris's blog I can only support his view on what a fine construction this tunnel is. I chose the sidewalk, Gareth the maverick ran gauntlet down the closed lane of virgin tarmac. Did I mention this tunnel was almost 2 miles of downhill? The tunnel ended like a second birth, more downhill of beautiful tarmac ensued, ignoring the smell of sulphur we continued to Elbasan.

I was aprehensive of Elbasan, you could tell it was a working city, away from the niceties of the coast, sandwiched in a valley, from the map I could tell this was going to be a no-nonsense industrial town, I didn't want to stop here. My pre-programmed Garmin route took us through the main roads. Unfortunately for us they seemed to be undergoing some kind of refurbishment, looked like they had done the ripping up but hadn't quite started the finishing off.



Welcome to Elbasan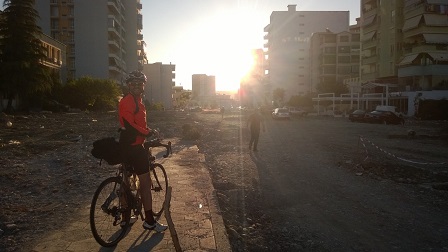 Elbasan was like a city where colour hadn't been invented yet, we noticed a banana seller, I don't know if I was drawn to him for sustenance or because of the bright yellowness he was vending. I bought some yellow, but all too soon the peel would turn dark, poetic.

Leaving Elbasan was easy, we knew we had 40 miles of up, but not knowing how much up. We'd ridden all night, 160 miles already. It was probably 0700 when we started up, ohhh boy did it seem to drag, it was the worst kind of up, it was up with a measure of down. To add insult to the effort running parallel to the road was a disused railroad, following a constant gradient of the rise, tunnels and bridges, how it weaved gracefully up. We were both suffering, Gareth had a mechanical, I had cleat worries, I needed sleep. There was only 50 miles to go. In this part of the world there aren't many main roads, up the valley, over the last hill, down to the lake, head south to Pogradec, hotel Enkelana. With that in mind we split, going at our own pace. Gareth finds his pace, off he goes. I ride for a few miles, pass Gareth inspecting his back axel, few words exchanged, I continue, not far along I spot a place to snooze, G rides past, 30 minutes respite I ride on, there's G, we stop at a garage, sorry looking pair. Each with a plan but no energy to carry it out. After the longest 30 miles of our lives we reach the anonymous, now known as Prrenjas, town. I'm a little ahead of Gareth, I notice a cycle stall, thinking of Gareth's axel woes I hope he notices it too. An abandoned mine strikes an impressive backdrop, revealing a reason for this town and the railroad. Knowing why Prrenjas was brought comfort, more comfort than the Stelvio.



Prrenjas's tallest building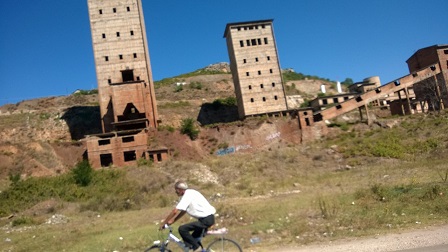 Passing the numerous skybound water jets (they were locals touting to clean your car or truck), wanting a refreshing wake up without the involved wetness or possible pathogen, I continue upwards. No respite. This time a hill I now know as Qafe Thane lay ahead. This road was a porthole to Macedonia and further on Greece, the lorries knew this. Ahead and above you could see the vehicles snake across the hill. A 7% hill, normally i'd eat it up, today I was defeated. Gareth passed and rode on up. I'd never felt so exposed, so powerless. We've all been in situations where it's been difficult, that's what friends and family are for, even a human default good-willed stranger will help you out. This was TCR, rules were rules, self supported, you are on your own, man up or scratch. There was 10 minutes of darkness, 5 minutes riding, 5 minutes leaning on my bike. My cleats, I had lost a bolt, I knew they weren't designed or robust for prolonged walking. I was in Albania, finding a replacement cleat would be impossible. I think back to video on a recent TDF or Giro where a rider was taped into his pedal as a cleat had malfunctioned, not me, not Albania. Besides this hill I knew I was going to be riding and walking. The 10 minutes passed, logic and instinct supported the next move. I'd have to walk, barefoot.

Joy of joys, I walked that hill with my thin socks. I could only think of some Australian film to do with Aborigines walking the outback barefoot. I adjusted my walking style as to limit possible blisters. A couple of motorists stopped and asked me if I needed help, heartwarming stuff. There was a golden lining to all the trucks that passed, they had polished the road, it was relatively smooth, a paupers marble. Snaking across the hill I noticed a steeper, more direct farmer goat track, tempting but no. The hill never alleviated enough for me to warrant putting on my shoes, it was 7%+ right until the end.



Qafe Thane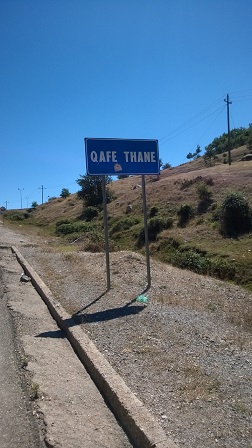 Lake Orhid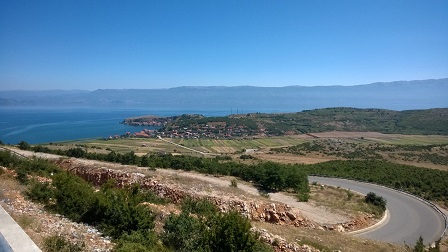 No sign of Gareth, he did the right thing and continued down. At the top there was a view, I took it in. Views come with a penalty, this time the penalty was far greater than the prize of seeing the mountain, Lake Orhid. All was over, down, down, down to the shore, 15 miles to home.

10 miles from Pogradec, along the flat lake shore, the road works started. "Hello" a girl shouted, this sparked her dog and they gave chase, grrrrrrrr... I'm now cyclo-crossing in my 23mm tyres, obedient dog withdrew. Gravel, mud and weaving traffic, 10 miles of it. At the next garage I stopped for a cola, the chap successfully robbed me of £3 for a cola while chatting to Marcel who invited me to sit at his table under the fig tree. I let it slide.

Approaching Pogradec the roadside vendors were demonstrating their produce, glass tanks of trout, rather picturesque to be honest. When a nice car passed by, the chap would reach into the tank, grab the largest previously handled trout and drape that trout in front of the approaching car, how I laughed. I reached Pogradec later than I'd hoped, Gareth was entertaining the locals, we made our way to the hotel. We paid for the room and had a little stand off about bikes in the room. Gareth and bike got in the lift, the door closed, discussion over.

The plan was to sleep, eat, sleep, with a bit of social media in between, Gareth had problems charging his phone, exacerbating the feeling of exposure and remoteness. Between us we had a number of cables and plugs. Gareth continually joked about a 10-leaded 1 plug octopus looking charger I had bought in Ancona. Turns out this little gem was the only thing that charged Gareth's phone.

With the backdrop of charging and cleaning we were both defeated, both our moods, independent of each other, we were low. After my first sleep I discussed the day with my wife, I considered my options, I couldn't do another day like today, my target of reaching Istanbul in 14 days seemed remote. My wife was full of praise, a tactic I don't respond to. Then came the facts: 200 miles a day over the next 3 days, the worst is over, one hill tomorrow morning and no more mountains. Mike said everything seems better after a sleep. I knew even if I scratched in Albania I'd still need to get to Greece to catch a bus. We ate, we slept some more. The hotel provided matching flip flops, we became like brothers. After some sleep we hit the road at 0400.



Scallywags breakfast?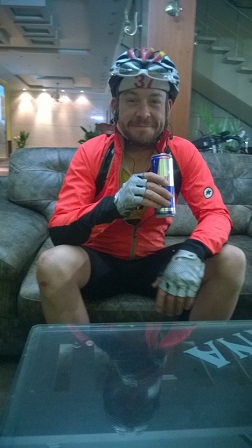 Pogradec - Florina - Thessaloniki [186.4 miles / 7,780 ft]

I have no idea what was in those koftes but my muscles were happy, my mood had alleviated, I still had cleat concerns, the Albanian border would be upon us soon. A few angry dogs. Riding along we took a deviation from the Garmin route. We suspected a crappy road ahead and decided to take the longer, bigger, possibly busier road through a larger town. It was dark, all were sleeping.



Pre-dawn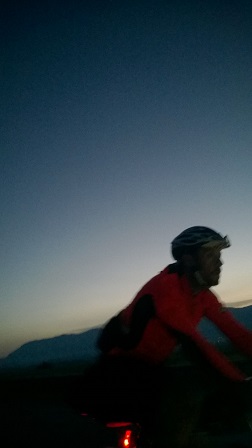 I say that, but eerily, now and again, in the shadow, you would notice the glow of a cigarette. Sometimes you would get the perfume of tobacco, was somebody there? There were eyes everywhere. Headphones in, riding 10 meters back, I didn't notice Gareth's call. I was verifying the detour in the glow of the Garmin. Thump!, slow motion free fall, the sound of the burst tyre rotating, like a Tomorrows World computer generated report on a probe meets a hissing spinning melting asteroid (note asteroids don't make a sound, space is a vacuum). Thud. Ouch, somehow I uncleated, my left knee took three impacts, my right elbow took the secondary blow. Back in late February I broke my Olecranon (Elbow), string and pins were working their magic, lots of apprehension met the delayed pain signals. Up, and dust off, pull bike to the side of the road. Reclaim the rolling bidon. Dogs started howling which started a chain reaction of barking down the valley. Gareth is quick on the scene, his face a mixture of fear, respect and friendliness, masking the seriousness of what might be. A couple of minutes pass and no major signs of injury, I start to test the knee and elbow, all good, just the road rash. Bike damage, bent grip, shifter, dented rim, double puncture on the front inner tube, tyre remained intact, I'd ride another day, relief. 15 minutes later the bike is patched up. Dawn had arrived and the local bobbie walked over to pull some sympathetic faces. I have got to escape from Albania, no more headphones from now on.



Widowmaker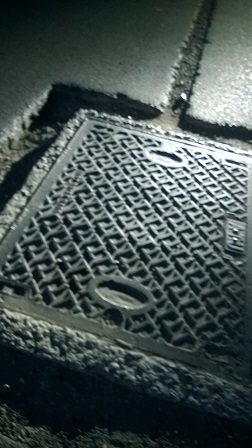 Leaving Albania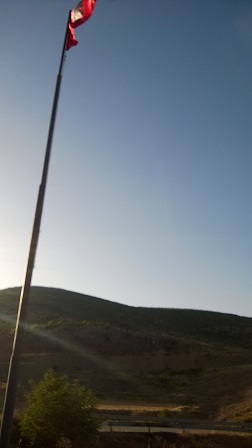 Greece was coming, oh how we smiled. We spent our last leke at a food kiosk. Greece was different, the first thing I noticed was the smells, sweet pine, sage maybe, roadside flowers... Could it be I was prejudice to the Albanian curb side beauty? No, there simply hadn't been any flowers. Why did Greece have all these flowers?



Beautiful Greece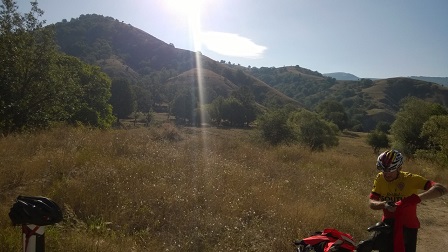 We had the last of the mountains before Florina, and what a beauty it was, it curled up through a wooded hill, a half way water fountain, I'll ignore the slight blemish of a puncture. Up to Vigla, a Greek ski resort.



The prize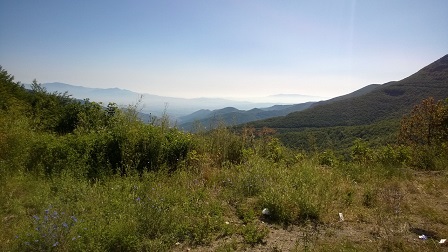 Assessing the damage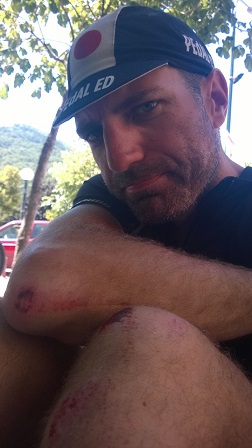 Then a downhill to rival Lovcen, glorious. We arrived at Florina. I didn't imagine it to be so well-equipped. It was in Florina we had our first encounter with Greek bakeries. Seems the Greeks love a good pie and flaky pastry. With the heightened sensations of being on the road, it was the best pie in the world. We discovered two bike shops, one fixed Gareth's axel problem, one sold me some cleats, cafe with Wi-Fi, super cheap sandwich shop, we hung around for 4 hours, we felt at home, we revelled in modernity. However the temperature was rising, Florina was a busy town. In the Spanish summer the Spanish in the centre head to the mountains or to the coast for prolonged vacations to avoid the blistering heat. Florina felt like one of those towns but for Greeks, a light holiday atmosphere. When the midday arrived all that was left were dogs and Englishmen, these Englishmen had miles to do, Thessaloniki was not going to ride itself. A 100 miles, along two flat sections.

We passed two lakes in quick succession, one 300 ft higher then the next, that threw me a little. When we descended from the higher plane, it was evening. You could tell it gets hot at sea level. Dark and a few miles from Thessaloniki we meet William Van and Jonathan Elliot, but suffering after a long hot ride, we continued our pace. They followed. I paused to check hotels on the phone, they catch up but needed refreshments. Thessaloniki's main approach road was in terrible condition, only a few miles long but I'll say the worst section of the whole trip. It was late, we plonked our stuff at the hotel and headed to a Greek Taverna, rather underwhelmed by the quality. I promised to use more aubergine when cooking.

Thessaloniki - Alexandroupoli [197.8 miles / 5,041 ft]





Seaview?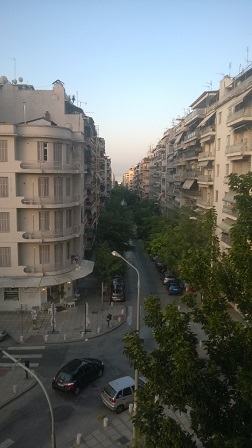 Buy the shop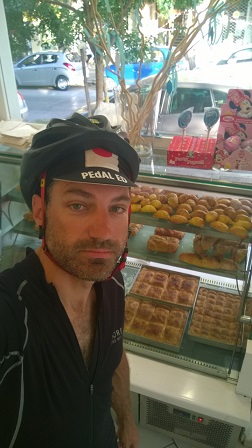 Morning revealed some Greek ruins and an upmarket bakery, attack. Double doughnuts, double coffee, a late start, today we would cook. Up and over the ridge between Thessaloniki and the east, along road blue #2.



Melt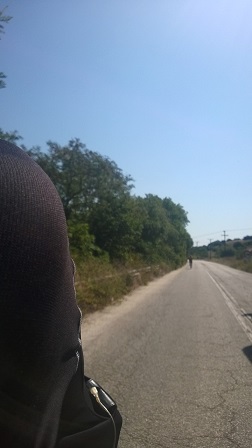 Paralleling the coast the road didn't really do much, it was nice to see the sea, it was nicer when there was shade. Spotted a few more cycle tourers. We started catching up with William Van and Jonathan Elliot we passed each other a few times, looks like we are all on the same road to the same destination. At one point we arrived at a food stall when they were setting off. Much needed water break.



Hydrate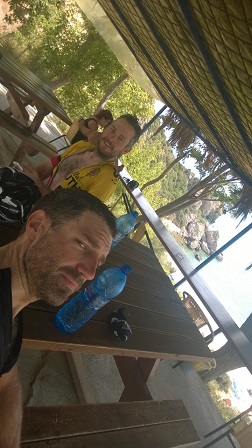 Nothing much happened, we stopped at Kavala for another Greek bakery, scheduled a 2-hour siesta, a couple local beggars took interest in our bikes, seems TCR inspires so many. Rested we rode on, one of my biggest regrets and I haven't managed to shift it yet, a tortoise crossing the road, I thought awwwwww...I didn't think to help it... Would David Attenborough have helped it?.

Back in London, now an acid etched phrase, I routed across a coastal road across the river Nestos and lake Vistonida. Darkness arrived, we followed the Garmin, then came the flies and mosquitos of biblical proportions, we turned up the pace, we had to get out of here. We must have been hitting 3 a second, traversing the lagoon, crossing bridges, there were men fishing... How did they have any blood left with so many parasitic pests around? The flies dissipated once we reached the other side, then the route lead us to a gravel road, grrrrrrr. We had to ride through some more flies and head north to Komotini when we really wanted to head east to Alexandroupoli. No choice, bitten, dark, weary, we passed a village having a fete, shame to have had to leave.



Party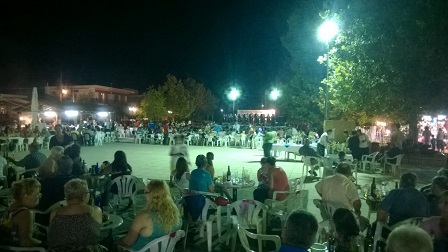 We found the motorway and we sped along, until the big hill, huge storm drain down the side. 800ft of hill sapped our spirit, the downhill to Alexandroupoli was welcome, straight to the nearest kebab shop, awesome. We were here for 20 minutes when a moustachioed former hipster appears "Is one of you Lee Pearce"? "Yep". His grin averted any suspicion, he introduced himself as Georges father. George was in the race, there were two Greek Georges, I haven't found out which. "Can I help you or offer any assistance?" "I have an office, you may sleep there." "Let me show you". A very surreal moment. I declared I would be staying in a hotel and it would be great if he could show me the way. Gareth viewed the office, as nice as it was he wanted the comforts of a bed and shower. Hotel it was, he tried to haggle the price down of an already reasonable hotel. We slept well.



#1 fan in Alexandroupoli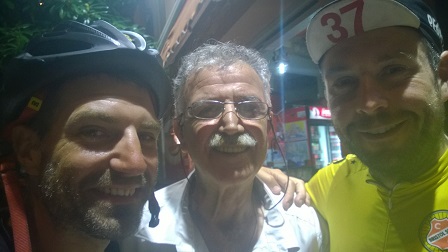 More hills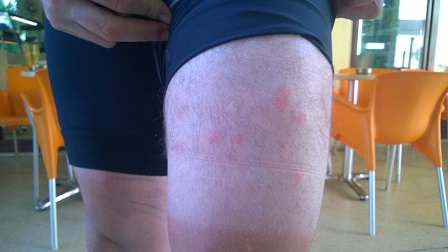 Mosquitogedon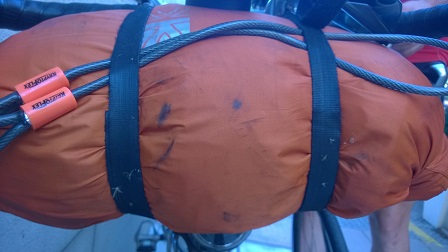 Alexandroupoli - Istanbul [203.4 miles / 8,694 ft]
Sweet and savoury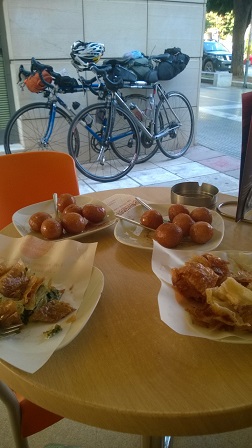 The next morning another great breakfast, Greeks eat well. It should be our last day, let it be our last day, it's hot already, we get going.



Critter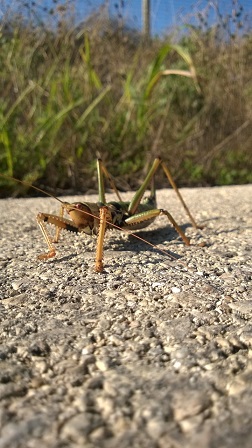 The Turkish border was like no other, 4 gates, 4 checks, one to say hello, one to stamp the passport, one to check the stamp on the passport, one to wave us goodbye.



No clouds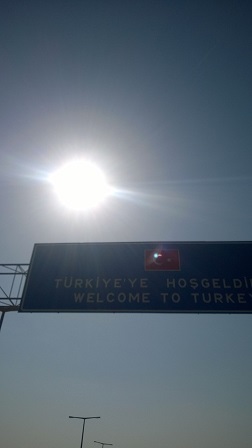 The Turkish roads in principle appeal to my deep logic: fast, straight, balanced gradient, wide. But boy did they sap the soul especially in the heat. 1000ft climbs, 1000ft down or so it felt, we stopped at service stations because we were bored.

Somewhere between the Turkish boarder and Tekirdag, hugging the hard shoulder, spent bullet casings started to appear. Not something you see very often, shiny gold things. Take note, place to the back of the memory, keep your head down and stay out of trouble, locals have guns.



Our private road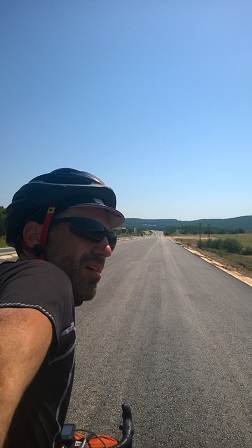 Tekirdag brought 7 miles of downhill 1000ft to 0ft, I recorded 48mph. Somewhere after Tekirdag and a huge oil refinery we were in need of some food, a coastal porta-cabin restaurant caught our eye, this cabin had neon lighting. With some miming we ordered a kebab. I took the opportunity to taste some of the culture. A tiny green bottle and a purple bottle I assumed was pomegranate. The green bottle was carbonated water. I opened the purple bottle took a big swig....urghhhhh....sour, vinegar, the owner couldn't control his laugh, I straightened my creased face to inspect the bottle....beetroot, a pickled beetroot drink!!! The owner puts his fingers to his lips and with a kiss declares the drink delicious. We eat and ride on.



Cabin Cuisine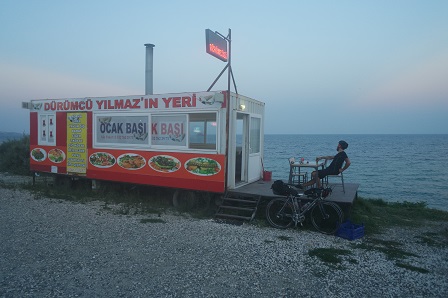 Few miles on came Büyükçekmece. I hadn't registered Büyükçekmece, I assumed it to be a district of Istanbul, the place was mad, 2+3 = 5 lane motorway each side. The 2 lanes for local slower traffic and nightmare taxis, the 3 lanes for people in a hurry who knew where they were going. We stayed as close to calm as we could. Calm was miles from where we were. I was excited about getting to the end. I think a red bull was involved and a caffeine infused electrolyte drink. It was dark, it was a city, it felt like Tokyo with all the neon and the double neon reflecting on the passing cars. This place had the luxury of street lighting, even the tarmac was smooth. Every now and then a road planner would take a lane and route traffic like that of a pinball machine. Taxis would sound their horns like you'd just scored some points. I'll never forget Büyükçekmece, adrenaline-induced madness. Gareth confessed he had problems keeping up.

Within the hour I'd burned bright with no finish in sight, resigned to another 40 miles I started to flag. It was near Büyükçekmece most riders had a decision to make about when to head inland, across the back of Istanbul to Ataturk Arboretum. Back In London I knew this being the end of a long and hilly day negotiating the back roads, dodging the motorways, wild dogs, winds, ill equipped roads would be ill advised. Mike made the parcour as far away from the southern route to persuade you to go inland across the back of Istanbul (so I think). But no, not for me, give me the constant of the coast, coast brings familiarity, used roads, well served affluent neighbourhoods, a shop or two, maybe even a trinket. I was following the coast, along the Bosphorus.

It was a Friday night / Saturday morning, the party was in full swing, I had work to do, one bridge, two bridge, there was the Rumeli Hisari, we had the parcour to do. Text messages of congratulations started to arrive, little did they know...It was a pleasant route snaking the water, rising up the gradient, a wave to William Van on his way down to the Rumeli Hisari, almost 0300 we arrive at Ataturk Arboretum, nestled in a tree-lined road, a mile away from a beautiful aqueduct.



Ataturk Arboretum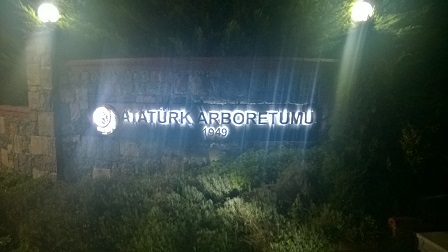 A photo just in case admin get all technical. Down, down, down, the humid air condensed on my hair. Down down down, one last wild dog did its trick, we agreed to share the finishing position so no need to rush. We finished 0339 Saturday morning. Relieved the physical torment was over. Happy to have completed within 14 days. Happy to see admin Mike fast asleep, we felt sorry for him, we let him sleep.



Sleeping Mike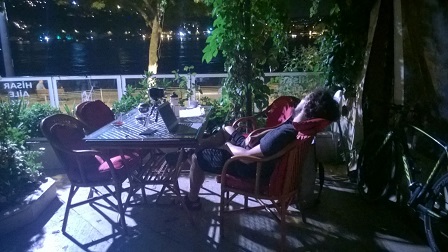 Rumeli Hisari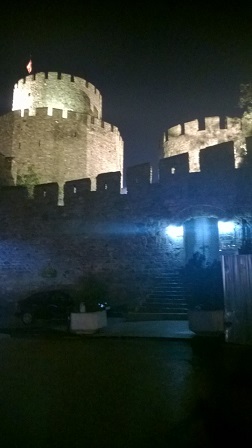 Miles = Smiles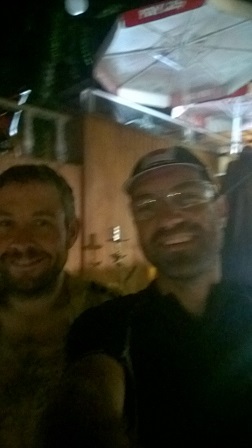 Pats on the back, updating social media, the night watchmen said the bar was closed, grrrrrr. We had promised ourselves beer. I'm not letting that rite of passage escape me, I bite the bullet and ride to the nearest hub, the offie was closing but I looked desperate, they obliged, 7 beers should do. We somehow we got talking, they were the first to congratulate me on my journey. Back to Rumali, Jonathan Elliot had arrived, he had a funny look, a free beer relaxed his pursed features, Reijet turned up, she joined us for a beer and was brave enough to give sleeping Mike a kick. Soon as the beer was quaffed a short sleep ensued.



The end.
[2044.9 miles / 85,220 ft = 3290.9 kilometers / 25,975 meters]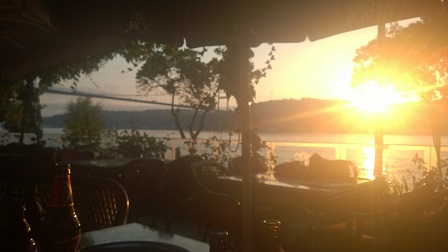 #TCR2014 - Photos - Wishlist - Further Reading